Pharmacy Services
Medication Synchronization
What is Medication Synchronization?
Medication synchronization (or med sync for short) is a free refill service that allows patients to pick up all of their ongoing prescription refills at the pharmacy on one single, convenient day each month. Much like your doctor's office, you can pick up your medications on your appointment date and discuss any concerns with our pharmacists. When you have multiple prescriptions it can be a hassle to run to the pharmacy separately for each prescription as it needs refilling. This service adjusts your pill count so that all your prescriptions run out on the same day. That puts an end to multiple trips to the pharmacy on different days to refill each prescription. It saves you time, gas and hassle so you can spend less time worrying about your prescriptions, and more time enjoying life. This is NOT AUTOREFILL. We want to ensure a proper patient pharmacy relationship to view the patient's healthcare needs as a whole rather than just an Rx number.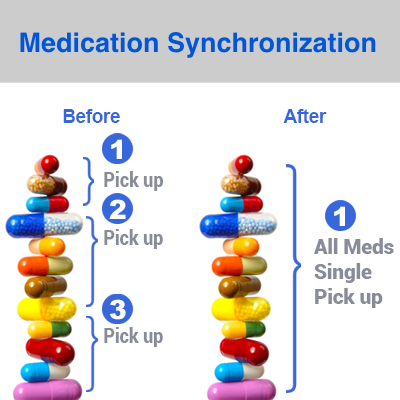 How does it work?
Each month, one of our team members will process all of your regular medications, focusing on resolving any potential issues long before you run out of your medications. If desired, they will contact you five to seven days before your appointment date to make sure there haven't been any changes in the previous month and address any refills needed. When your medications are filled, the pharmacist will check for possible drug interactions that may go unnoticed with separate refill schedules. If you're tired of worrying about missing your refill and running out of your medications, you're going to enjoy the peace of mind you'll have from this system. At Lititz Apothecary we are your healthcare advocate and want to health meet your healthcare goals. Please ask a member about medication sync or bring in this form.
Medication Packaging Services
TAKE BACK YOUR SUNDAYS
Don't spend Sunday filling up med boxes for you or your loved one. Please reach out to us to enroll in our EZ-MedPak program.
Now more than ever it's important to have a LOCAL partner and advocate in your corner to help you or your loved ones with their medication needs. To help ensure you can take back your Sundays from filling med boxes and spend them enjoying what you value most.
28 day packaging to ensure consistency
Delivery available
Daily routes to (Lititz) Luthercare, Brethren Village Retirement Community, Moravian Manor Communities, Landis Homes and The Long Community At Highland
For patients in the south of county with recent pharmacy closing of Wiley's Pharmacy we are currently enrolling past Mediset and packing patients as well.
Sign up today and a med pack expert will reach out to you. (Please note we do have a wait list so we ask you register/call if interested to get the process started)
We're a drug store and much more. In addition to filling your prescriptions with a smile, we provide many services and products that help you live healthfully and save you trips to other stores, including:
24-hour emergency service
Free delivery within the Lititz area
Fax service
25-cent copies
Yearly prescription income tax statements
Patient information leaflets
Prescription and over-the-counter consultation
We accept all major MAC and credit cards
Diabetic monitors, supplies and counseling
Prescription compounding
Veterinary medicines and compounding
Asthma counseling
Annual flu shot program
Immunization Administration, including flu shots and shingles vaccine
Personal service (Never an answering machine message)
Wheelchair, walker, crutch sales and rental
Supports, braces, surgical supplies
NO tobacco products!
Smoking cessation products
Gardners Candies
Designer Greeting Cards 1/2 price everyday!
Gift Items
Home Delivery
If you can't come to Lititz Apothecary, Lititz Apothecary will come to you. We offer FREE Delivery within a 5-mile radius of our store, and we also provide a unique service called Parking Lot Delivery. If you can drive to our store, but getting out of your car and into the store is troublesome, we'll meet you outside with your prescription. Our mission is to serve you, and our delivery service is one more way to do that.